Decathlon Cambridge

Free Next Day Delivery (order before 11am)
8 Grafton Centre
Cambridge
Cambridgeshire
CB1 1PS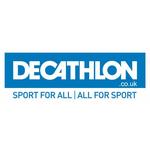 The map is accurate to within approximately 100 metres.
Decathlon Cambridge
Decathlon is one of the world's largest sports retailers, boasting 45 stores in the UK. Therefore making "sport accessible to the many" by offering best value products with great sport advice, 365 days return, bike repairs and sport equipment for over 70 sports as Ski, Camping, Hiking, Swimming, Triathlon, Running, Cycling, Fitness, Bodybuilding, Kayak, Tennis, Badminton, Table Tennis, Squash, |Scooters, Yoga, Gymnastics, Football, Field Hockey, Rugby, Cricket, Archery, Horse riding and many others.

Decathlon prides itself on the developing and selling of its own brands, alongside other names such as Adidas, Garmin, Salomon, Merrell, Columbia or FitBit.

Decathlon Cambridge is a Bike shop, Ski shop, Camping shop, Running shop and much more... Come and visit us!
Categories: sports shops, bike shops, camping equipment, hunting and shooting, ski equipment, football clubs, fitness equipment, skateboarding, leisurewear and sportswear, skating Keywords: Sportswear, Sports equipment, Sports Shops, Outdoor Shops, Camping Shops, Bike Shops, Bike Repair Shops, Ski equipment, Ski Shops, Running Shops, Power Walking Shops, Fitness Equipment, Fitness Shops, Yoga Shops, Hiking Shops, Swimming Shops, Kayaking Shops, Boating Shops, Diving Shops, Sailing Shops, Horse Riding Shops, Hunting Shops, Archery Shops, Badminton Shops, Tennis Shops, Squash Shops, Table Tennis Shops, Fishing Shops, Cricket Shops, Workshop Services, Tents
Opening Hours
Monday 09:00 to 20:00
Tuesday 09:00 to 20:00
Wednesday 09:00 to 20:00
Thursday 09:00 to 20:00
Friday 09:00 to 20:00
Saturday 09:00 to 20:00
Sunday 10:30 to 17:00
Open for Browsing from 10.30am every Sunday. Tills open at 11am.
Videos
Payment options
American Express
Android Pay
Apple Pay
Cash
MasterCard
Visa